Rotation Flap
Procedure Details
In this case, Infiltrative Basal Cell Carcinoma Cancer has been completely removed from the Nasal Supratip with MOHS Surgery. A Rotation Flap Surgical Repair was chosen because inelasticity of skin made the closure difficult. This avoids a deforming, depressed, and contracted scar, and closes the large gap created by lesion removal. In this case, the technique preserves the function and cosmetic appearance of the face.
More
Rotation Flap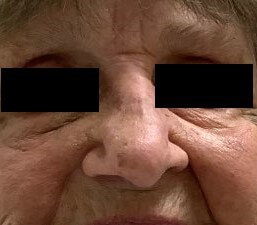 LEFT: Rotation Flap Surgical Repair. RIGHT: Post Operative View. *No revisions or contouring were performed.* More
Infiltrative Basal Cell Carcinoma Cancer originally measured 1.2 cm x 2.2 cm.
Performed 8 Stages of MOHS Surgery.
Defect measured 2.0 cm x 2.6 cm.
Resulting in performing the Rotation Flap.
Location