Paramedian Forehead Flap
Procedure Details
In this case, Nodular Basal Cell Carcinoma Cancer has been completely removed from Nasal Supratip with MOHS Surgery. The Paramedian Forehead Flap was chosen because of damaged skin surrounding the defect and inelasticity of local tissue made closure difficult. This closes the large gap and ensures proper range of motion. A cartilage graft was performed to transfer cartilage from the ear to the nose. This technique preserves the function and cosmetic appearance of the face.
More
Paramedian Forehead Flap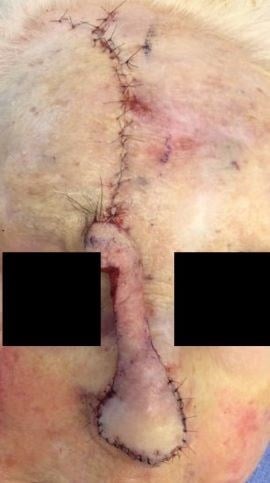 LEFT: Paramedian Forehead Flap Surgical Repair. RIGHT: Post Operative View. *No revisions or contouring were performed.* More
Nodular Basal Cell Carcinoma Cancer originally measured 3.7 cm x 2.8 cm.
Performed 4 stages of MOHS Surgery.
Defect measured 4.0 cm x 3.5 cm.
Resulting in performing the Paramedian Forehead Flap and Cartilage Graft.
Location