Rotation Flap
Procedure Details
In this case, the Basal Cell Carcinoma has been successfully removed with MOHS Surgery. A Rotation Flap was chosen in this case to keep and preserve the natural deflection, functional, and cosmetic appearance of the nose. This flap will prevent distortion of the nasal tip and decrease tension. This allows for maximum movement to rotate matching skin elements of the surrounding tissue.
More
Rotation Flap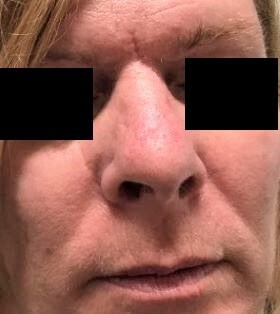 LEFT: Rotation Flap Surgical Repair. RIGHT: 4 Month Post Operative View. *No revisions or contouring were performed* More
Basal Cell Carcinoma originally measured 0.9 x 0.6 cm.
Performed three stages of MOHS Surgery.
Defect measured 1.5 x 1.2 cm.
Resulting in performing the Rotation Flap.
Location