Trilobed Flap
Procedure Details
In this case, the Basal Cell Carcinoma has been completely removed. The ideal method of closure for this nose was a Trilobed Flap. By using adjacent tissue from the nose, each lobe can slide into the defect which allows it to have the same color and texture as before. This advantage will keep the nose cosmetically pleasing without disturbing the function and natural contours.
More
Trilobed Flap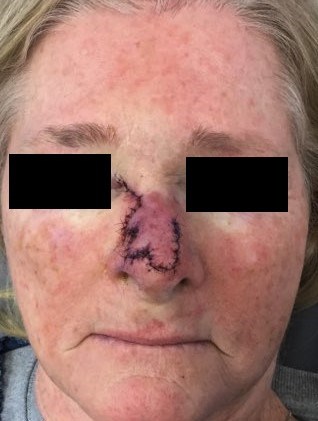 LEFT: Trilobed Flap Surgical Repair. RIGHT: 3 Months Post Operative View. *No revisions or contouring were performed.* More
Basal Cell Carcinoma originally measured 0.8 x 0.6 cm.
Performed two stages of MOHS Surgery.
Defect measured 1.2 x 1.1 cm.
Resulting in performing the Trilobed Flap.
Location