O-T Advancement Flap
Procedure Details
In this case, the Basal Cell Carcinoma Cancer has been completely removed with MOHS Surgery. The O-T Advancement Flap was performed to minimize tension on the eyebrow and surgical defect due to the large nature of the skin cancer. The flap lines are easily hidden along the natural creases of the forehead.
More
O-T Advancement Flap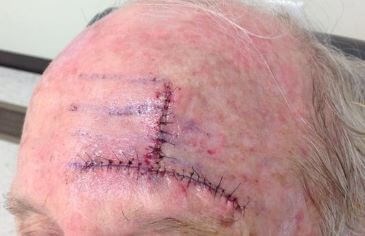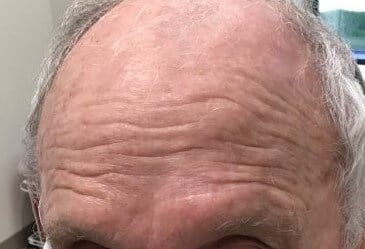 LEFT: O-T Advancement Flap Surgical Repair. RIGHT: Post Operative View. *No revisions or contouring were performed.* More
Basal Cell Carcinoma originally measured 2.6 x 2.0 cm.
Performed two stages of MOHS Surgery.
Defect measured 3.9 x 2.8 cm.
Resulting in performing the O-T Advancement Flap.
Location